I can create any balloon vision you desire!
Get $50 OFF Your First Order!*
*Any order of $500 or more.
Any occasion, any size—we'll add a bit of the fun!
Diane's Balloon Fiesta caters to all types of events!
• Birthdays
• Anniversaries
• Sweet Sixteen Parties
• Holy Communions
• Graduations
• Grand Openings
• Promotions
• New Year's Eve Celebrations
• Homecomings
• Proms
• Corporate Events
• Your Special Whatever It Might Be!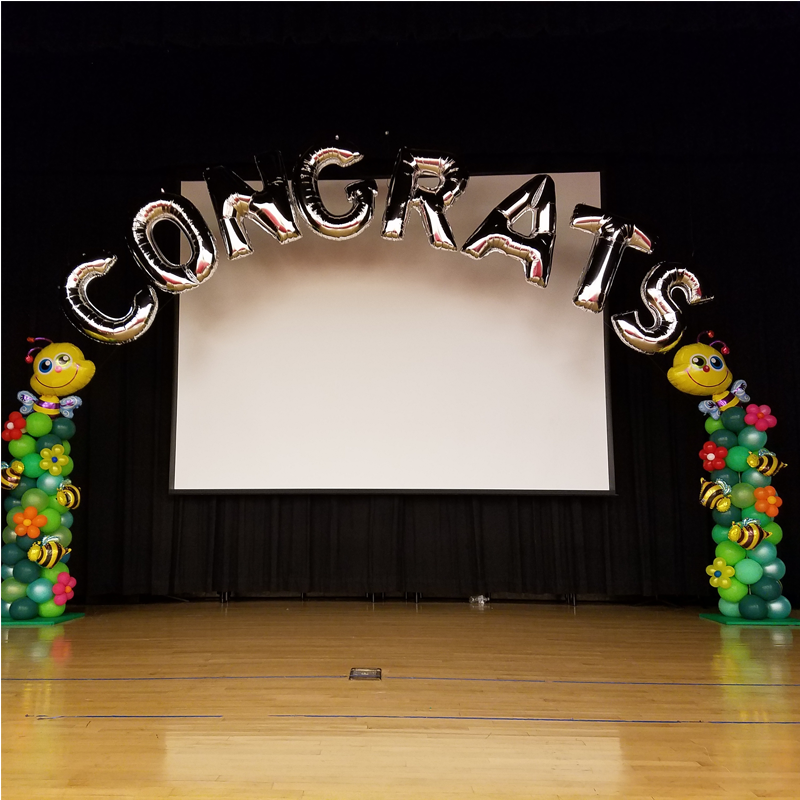 Every job is customized to your specifications and needs. We have letters, numbers, script, and symbols, all in a variety of colors. Just let us know what you have in mind. And remember, no job is too big or too small!
Letters, Numbers, & Symbols
"Your balloons were a big hit with both the adults and the kids at Niki's Bat Mitzvah. The colorful centerpieces and the tastefully done arches over the dance floor set a festive tone for our special occasion. Thank you for a job well done. I'll be recommending you to my friends!" — Barbara L.
"Months of planning could not have prepared me for the delight I felt at the first glimpse of the ballroom where my daughter's reception was to be held; all decorated and ready to go. Who couldn't have imagined such an inspired evening of fantasy and fun as well as the perfect touch of elegance! Marvelous!" — Tamar Smith
"We wanted to thank Diane for the beautiful decorations. Everyone was in awe with the balloon wall and cluster arrangements. You did a marvelous job! Thanks again!" — Larry & Paulette James
"Thank you, thank you, thank you! Your work is spectacular! I received raves and compliments about the 'unusual' balloon decorations during the entire affair and phone calls thereafter. You creative touch made this party an affair to remember!" — Donna L.
"Your balloon arrangements are fantastic. Thank you for coming out to the conference, we really appreciate it. You're really good at what you do!" — Morris & Billie Wheeler
"Diane was the decorator for my daughter's Sweet Sixteen. When we met, she asked only a few questions She took a looked around the room, and asked me a few more questions. Then she declared that she could visualize the room - fully decorated. I cast my eyes around the same room and saw nothing! So I said nothing. On the day of the function, I remember (as if it was yesterday) the moment I entered the hall and gasped! Diane had totally transformed the space- beyond my expectation! Later, I had the opportunity to watch our guests as they came in. People just stared awe-stuck-and I mean men and women. Whenever I reflect on that occasion, I still "feel" the same sense of awe that I felt that day when I first entered hall! With only a short discussion about budget, colors and theme, Diane was able to bring to fruition what was my dream for my daughter's Sweet Sixteen Party. Diane exhibited that wonderful sense of professionalism, mixed with kindness and honesty! It is truly a rare combination. I recommend her absolutely and completely, without reservation!" — Mrs. Indira Seepaul
"The Jersey City Public School have worked with Diane Balloon Fiesta for many years now and consistently find her to be and important resource for our Annual Graduations, Science Fairs, Awards Dinners, Honor Society, and Special Day Events. Diane invest the time to get to know the needs and likes for the occasion. She has a keen ability for finding good matches and discerning the appropriate decor for the occasion. Diane is a true professional and exceptionally creative. Once given the assignment, she is tenacious and prompt and always has a successful outcome. The Jersey City Public schools recognize her services as being exemplary in our community and an indispensable part of our celebratory practices."
—  Franklin Walker, Associate Superintendent of Student Life & Services.
"No one can decorate an event like Diane Labega! She transforms the room itself; the foyer as you enter and tables in a magical, creative way. She has a knack for making a simple design into something elegant with her combinations of color; and create high design when called for as well. Her balloons always last through the entire event and people beg to take them home after! She has decorated for our events for over 15 years and has NEVER disappointed! Everything is ALWAYS on time and in place well before the meeting begins. We LOVE Diane Labega!"
—  Mrs. Mary Kocher. Primerica Financial Service
I would like to thank Diane for her GREAT work at my daughters baby shower.  The arch she made was more than I expected and just beautiful!  My daughter loved it and so did all of her guests!  I would recommend Diane for any kind of balloon decorations anyone would need!!!  FIVE STARS FOR SURE!!! —Doreen S.